Customer Reviews
Write a Review
Ask a Question
14/06/2020
Paige M.
Australia
08/06/2020
Claudia C.
Australia
SERIOUSLY AMAZING!
I live in a very small apartment that's all floor boards (boo!) and we don't have any room for a high chair to fit! I got a little booster seat high chair, put the Mat underneath and now when my girl throws food or spills her bottle, it falls onto our beautiful play mat and with one wipe of a baby wipe its clean! No stains or anything. I have her toys set up on the mat aswell as her dollhouse so her little knees don't get sore when she's playing. The mat is PERFECT for tummy time too! Her head keeps falling and the thick cushy mat is there to protect her. We use this mat for so many things as you can tell it's so versatile! I even bought the larger one to cover my living room! Definitely recommend grace and Maggie play mats to any mums!
27/04/2020
Pamela R.
Australia
Simply amazing couldn't be happier
It's amazing and stylish! Great material and great size! Looks amazing in our living room
22/04/2020
Izzy S.
Australia
Amazing
This is the best purchase for my little one. Since it arrived last week we have spent hours on it for reading, tummy time and cuddles. Thank you so much!
21/04/2020
Sian M.
Australia
Blush round playmat
Is really modern looking ! And can be flipped for a more mature age ! Very spongey and feels good plus easy to wipe down !
20/04/2020
Francesca L.
Australia
Very happy
Bought this mat for my 6 month old and we love it! It looks beautiful and is great for bub to play on, wish we had it sooner!
16/04/2020
Alison M.
Australia
Fantastic play mat
We love our playmat!! Perfect size for our daughters bedroom and the quality is beautiful. She loves spending time on her mat. The print is lovely and great to have two options with either side a different print to mix it up. Would highly recommend this mat and consider a second one for our lounge room!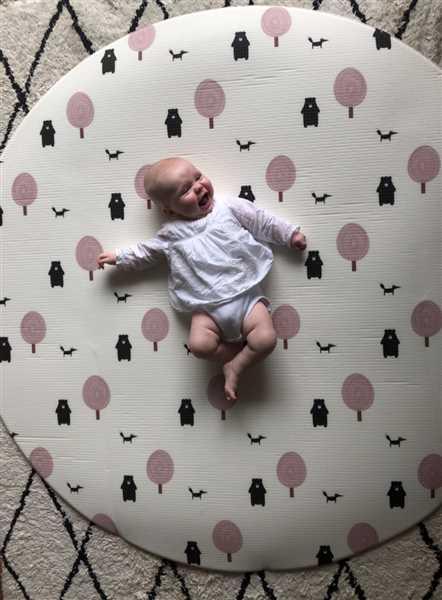 14/04/2020
Jessica D.
Australia
13/04/2020
Casey B.
Australia
Gorgeous!
I love our new play mat, so soft and easy to clean, and it looks beautiful! Makes it so much easier to get down and play with bub! Will be getting a big on efor the lounge once they are back in stock x
25/03/2020
Ali K.
Australia
Absolutely love our mat!
We've had our round mat for a bit over a week now and wish I had bought it sooner! Bubs is 11 weeks and is really loving her tummy time on the mat- especially nappy free. We've had one accident that wiped right off with no stains left behind. I've already recommended them to my whole mums group. Love it!
11/03/2020
Brie K.
Australia
The perfect mat for my adventurous little one!
I ordered the mat when my baby hit 6 months old and would roll around grabbing at toys, starting to sit and showing signs she will soon be crawling. The mat is nice and padded so you can be assured your baby will be safe from knocks on the floor. It also makes feed time so much simpler, as any spills can easily be wiped off the mat. Highly recommend!
10/03/2020
Kara A.
Australia
Beautiful
We are loving our new play mat. It's beautiful and soft and so easy to look after. A great addition to our nursery.
27/02/2020
Jayde V.
Australia
Amazing Mat! Every child's room needs one
What an amazing mat! We have hardwood floors so I wanted something both my girls could sit on in their rooms & play on which won't get destroyed or damaged with drink bottles, markers or food! These mats have exceeded my expectations & more. I love how easy they are to wipe clean, vacuum on & flip over for another pattern to change up the feel of their rooms!
21/01/2020
Laurie D.
Australia
Great mat!
Love the mat. We've had it for 4 months and it's been great. No stains from nudie time accidents and the pattern is adorable! Also nice and cushy for my daughter on the tiles. Love it!
21/01/2020
Anna R.
Australia
My new go to gift!
I bought one of these for my daughter & loved it so much I bought another as a gift for my sisters new baby. I love that it's double sided so you can mix & match - in her bedroom we have the bear side up & when I move it to the lounge we have the pattern side up....like 2 different mats! So easy to wipe clean & great on hard floorboards when you want somewhere soft for your baby to play :) love it!
21/01/2020
Renee N.
Australia
Stylish and luxurious
Everyone comments on how beautiful and soft it is! Great for bub to practise her rolling safely. I love this mat and can't recommend it enough.
21/01/2020
Meagan B.
Australia
Absolutely LOVE this playmat
I looooove this playmat. It was great when my daughter couldn't crawl and she lay and play on it and it made such a difference with her tummy time. Now that she's crawling, it's broken her fall numerous times! I've bought one for a friend and she loves it too!
21/01/2020
CAROLA G.
Australia
Best quality and looks
Love the playmat! Looks amazing and feels even better. Baby plays safe and happy.