(Preorder) Baby Driver / Grey Boho Large
Customer Reviews
Write a Review
Ask a Question
Love love love ❤️
We love our new playmat. Neutral colours to match our house decor and plenty of space for bub to grow and roll around! We love that we can flip it to the roads and tracks when he's a little bigger! Super spongy and has definitely saved my knees!
26/04/2022
Grace R.

Australia
25/04/2022
Celena C.

Australia
Why did I wait so long ?
I honestly have no idea why it took me so long to purchase this mat. It feels so soft under your feet, it's been wonderful for our 5 month old and his tummy time and it has endless play opportunities (we tend to keep it baby driver up 99% of the time). My toddler loves to make small towns, safari parks and farms on it. They should absolutely make a smaller version for offices as my husband keeps threatening to take it to work to stand on due to how great it feels.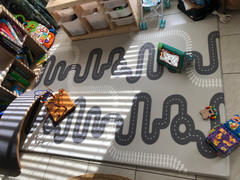 25/04/2022
Courtney L.

Australia
Fantastic product!!
These play mat's will now be my go to gift for friends and family. Such lovely quality, excellent colours and designs, great size and so soft and spongey. I love that they are so easy to clean and have pretty colours. Overall an excellent product, I will definitely be purchasing again and I was so impressed with the easy to use website and super quick shipping.
04/04/2022
Therese B.

Australia
Another baby, another mat
This is the third playmat our family has purchased. After the first daughter had one and found it so wonderful, it was an essential on the list for the next two daughters when they prepared for their babies. As the grandma, it is so easy sitting on the floor as the baby does tummy time. The soft rubbery playmat makes it gentle as the baby moves around - gentle for rolls and on knees when crawling and soft for sitting. This mat is easily cleaned and can be simply rolled up if not needed though I find it is just permanently out for the babies and toddlers. Wish it was around when my children were babies. A totally great product.
30/03/2022
Simone E.

Australia
Outstanding service and exceptional quality
I had wanted to purchase a Grace and Maggie play mat for some time, and with the arrival of our third child, I decided it was time to finally make a purchase. My family and I are so pleased to be the owners of a Grace and Maggie play mat. The quality is amazing and the design is very on trend to cater the needs of all three children. The communication from placing the order to when the play mat arrived was excellent. Thank you for providing such a brilliant product and service.
28/01/2022
Aleisha S.

Australia
Perfect addition to our play room
The best balance between being beautiful but also function. Perfect addition to our home and play room.
27/01/2022
Jess O.

Australia
Absolutey love it
Beautiful design that fits in well with our home. Thick and soft, has been perfect for baby learning to roll and crawl. A must if you have an infant and only wooden floors! Easy to clean up spills. Very happy.
17/01/2022
Lauren W.

Australia
Amazing quality and design.
Purchased as a second padded mat but first from Grace and Maggie. We love both sides and love how easily the mat fits into our home decor. We will 100% recommend your brand to others
09/01/2022
Paris F.

Australia
Perfect baby mat
This Mat is so think and such good quality! My 5 months old did her first rolling on it and she loves it!
07/01/2022
Nicole B.

Australia
Still waiting for delivery
I probably will like it when it finally arrives.
07/02/2022
Grace & Maggie Playmats
Hey Nicole I hope your mat finally arrived xo
01/01/2022
Kathleen P.

Australia
Easy to clean
Good quality. Easy to clean and comfortable to sit on. I was a little disappointed because the grey colour seemed to have a green tinge compared to the picture of the product on the site. I was expecting more of a grey-brown colour. It doesn't really match my flooring, but it's ok.
26/12/2021
James M.

Australia
Better than i thought!
This designer play mat is genius, perfectly suitable as a rug in disguise and so practical at the same time. Very satisfied for the price, great quality
17/12/2021
Dale B.

Australia
Amazing!
Absolutely amazing quality and such quick shipping. Better than expected!
24/10/2021
Kiralee R.

Australia
A mat for mum and baby
Our baby isn't due until Feb but this mat has already been getting lots of use. I decided to use it for some yoga recently and after experiencing the comfort and plushness of this play mat, I will no longer be using my actual yoga mat! The thickness of this mat made it so comfortable, especially on my knees. I have no doubts that this mat will be comfortable for our child, and the bonus is that it looks great! Would recommend it to anyone. Thanks Grace & Maggie!
19/10/2021
Rebecca R.

Australia
PERFECT
I bought this play mat to go in our living room so that my little boy could roll around without banging his head on the hard wood floors and instead the whole family choose to sit on it instead of the couch! It's so squishy that your feet feel like they are in heaven every time you step on it little man his bumped his head on it so many times and he's not even phased! Sooo happy I'm thinking of buying 2 more !