Forrest/Grey Large Playmat









Customer Reviews
Write a Review
Ask a Question
19/10/2023
Diane C.

Australia
Totally happy with new play at.
Great size for my 10 month granddaughter who I look after once a week and great on my knees. So soft for both of us. Love it.
31/05/2023
Mirna C.

Australia
You need this matt!
The Grace and Maggie playmat is absolutely gorgeous. Beautiful design, and just a very high quality fabrication. Customer service was incredible and very helpful when wanting to source a sold out style!! Shipping was fast and reliable and I can't wait for my baby to use it. It'll be loved for many years to come.
13/03/2023
Annie T.

Australia
Great playmat
The playmat is great for our baby to play and crawl. It's very soft and the print is nice.
08/03/2023
Prue G.

Australia
Amazing playmat
This is a great mat. So soft and easy to move around the house. Very pleased with the price, quality of the mat as well super fast delivery.
03/03/2023
Ranjita P.

Australia
Love love love
It's a beautiful looking playmat and goes perfectly with our nursery. Creates a safe space for my a baby and additionally is very easy to clean.
07/12/2022
Debra W.

Australia
Large playmat in the Forest print
This playmat is wonderful, if you are a grandparent it can be difficult to get onto the floor with very young babies, but I can get onto the floor and roll around with the baby and the kids on this playmat. I have even started using this instead of my yoga mat for my morning yoga, lying on the floor has never been so easy. My granddaughter is only 12 weeks and refuses to go onto the floor unless it is on one of these mats, this is how I found out which mat to buy as my daughter has the Grace and Maggie large playmat also. The only thing I do ask people is to not walk on the mat with shoes on, not sure if this would damage it, but I don't want it getting dirty from shoes. I am very pleased with my purchase and highly recommend this playmat, you can roll it up and place in a wardrobe when not in use if you need to.
15/11/2022
Amanda S.

Australia
Best playmat
This playmat is one of the best I've found. It's super soft for both children and parents to sit, and cushions any falls. It's of very high quality, durable, and easy to clean spills. My little one is 6 months old and loves crawling and playing on here.
14/11/2022
Taylor J.

Australia
Perfect playmat
Exactly what we needed. Perfect for tummy time and to help my little one learn to roll. We use this mat everyday, fits in her nursery. Definitely recommend
06/10/2022
Cherese

Australia
Great quality
We have had our mat for 3 years now. The quality is amazing and it's still used frequently! We love ot so much that we purchased 2 more and about to purchase another.
11/09/2022
Melanie B.

Australia
Order one meowwww :p
First time mum here soooo I don't have much experience BUT man we love our mat! Considering it's the same price as most but it's bigger and better cushioning… why would you buy elsewhere. Plus we just sit on the mat for the fun of it because it's just that comfortable. Don't think just get one!
01/02/2022
Jennifer M.

United States
Greatest mat ever
I bought this for my grandsons play area. What a wonderful choice. It fits perfectly and is so comfortable. As a matter of fact my daughter climbs in there and lays down while he is playing. I also received excellent customer service, they went above and beyond to get me my merchandise.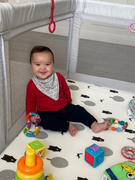 17/01/2022
Wing N.

Australia
05/11/2021
Lane S.

Australia
Play Matt
Absolutely love it! Soft and spills clean up so easy.
20/10/2021
Emily T.

Australia
Best Present Ever
This was the most well received gift that I have ever given. It was recommended to me by a friend who loved the product for her own Bub. I would highly recommend purchasing it as a gift and will look to spoil my new baby cousin with more Maggie and Grace products. Fantastic quality and beautiful around the home.
05/10/2021
Elaine P.

Australia
Love it
We love it. My baby and I always hang out on this play mat. Its very nice and squishy. I love sitting on it too.. will surely buy again plus the design is lovely.
30/09/2021
Nevasha L.

Australia
Run Forrest / grey large playmat
Love this mat so soft and the print is so cute! Both sides will be well used. Can't wait to use it when bubs arrives
Trusted By