Forrest/Baby Blue Small Playmat






Customer Reviews
Write a Review
Ask a Question
28/06/2021
Amalia R.

Australia
Love our Run Forrest: Baby Blue Small Playmat
Our 6 months old loves her new mat. Perfect for practicing rolling, tummy time and reading books together. Looks great in our lounge room too.
11/01/2021
Melanie P.

Australia
Such a great playmat
So happy i got this playmat, great quality, so soft, design and colorful is very nice. The whole family loves using it. My 7&8 yo girls keep asking me to get theirs too for their room. I highly recommend this product.
17/06/2020
Tracey R.

Australia
Absolutely beautiful play mat
Cannot thank the girls enough for this beautiful play mat. So cute, exactly as described, easy to clean. We definitely be buying again to my next grand baby
09/04/2020
Kate C.

Australia
Even better than I'd hoped!
We LOVE our new play mat and that's possibly an understatement! It arrived quickly, it's the perfect size for playing and storage. It's so much softer than I expected which is great as it's the ideal surface for my 4 month old to practice rolling on. I love it too and use the other side of it for yoga when he's asleep :)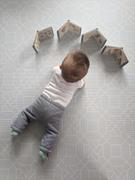 09/03/2020
Prudence S.

Australia
Run Forrest Bubba Blue: Small Playmat - The Best Thing We've Bought!
We absolutely love this playmat! It's so soft (for mums and dads as well as the little one, spending hours on the floor!) and the pattern is gorgeous! It wipes off easily and cleans up like it is new. Fantastic product - thanks so much Grace & Maggie!
16/02/2020
Kellie H.

Australia
Fantastic Product
This playmat is superb. The quality is brilliant and it's very soft to lay on. Absolutely love it!
21/12/2019
Jessica L.

Australia
Amazing x
Gorgeous mat, great quality and I love the colour! Best size for my sons play room xx
21/12/2019
Sharon Y.

Australia
Love it
It looks great, is so easy to clean, the baby loves rolling around on it and I know he's safe. Perfect!
07/10/2019
Jacqui A.

Australia
Love it!
Great playmat - my little 6 week old enjoys practicing holding her head up on it :)!!
04/10/2019
Angela S.

Australia
Best playmats ever!
I have a Grace And Maggie playmat for my daughter which I absolutely love, non toxic, easy to clean and reversible patterns! Perfect for tummy time and still gets use in our play area now that my daughter is older..we even take it on holidays with us! I also just purchased one for a family member who is expecting twins and they absolutely love it too, would recommend to everyone
03/10/2019
Kristen F.

Australia
Beautiful and soft!
This beautiful playmat is soft and squishy, so fun for my little one to learn to roll and play on! Perfect to lay over tiles if you don't have a soft surface and oh so pretty!
06/08/2019
Loren Q.

Australia
Great customer service and product
Great customer service and the mat was so gorgeous and soft. Lovely gift for a friend.
05/08/2019
Laura O.

Australia
Best baby mat ever
Absolutely love my sons new play mat ! It's the best quality definitely worth the money and I like that you can swap the mat over for a different pattern for a different day, my son loves it even my 3 year old daughter does it's so comfy she lays on it everyone that comes to visit always asks where I got my mat from ! Definitely would recommend your company to people looking for a good quality play mat xx
03/08/2019
Michelle H.

Australia
Small blue bear mat
Absolutely love our blue bear mat. It was for our baby but our toddler decided she liked it too and it makes a great little dance floor. Nice and squishy for baby falls. The design is really cute but also stylish. It's hard to find things that appeal to kids but are not an eyesore. This is perfect!
03/08/2019
rachela C.

Australia
Beautiful play mat !
Sooo happy with it. It's the perfect size for a tight lounge space and really was the only subtle boy colours on the market !
03/08/2019
Nikita S.

Australia
Best mat ever! And quickest delivery!
We love our play and it's perfect pattern fits in with our lounge room. Our baby has been rolling and playing heaps more on it. We love it!
Trusted By