My Name is Earl Grey Large Playmat



Customer Reviews
Write a Review
Ask a Question
22/03/2022
Jessica B.

Australia
My Name is Earl Grey Large Playmat
We love our new playmat. We purchased it for our 2 year old son who has severe cerebal palsy. He spends a lot of time on the ground so we were in need of a qood quality, soft but also durable play mat for him. We also wanted a mat that looks good in our living room. My Name is Earl Grey Large Playmat ticked all of these boxes. I would recommend it to any parent. It *** also delivered very quickly as an added bonus.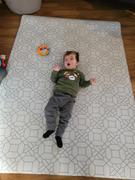 21/03/2022
Alexandra H.

Australia
Loved by all my girls!
We were reluctant to upgrade our tired looking play mat for our third daughter but finally decided to go ahead and purchase one of your wonderful mats. We are so glad we did. It has already received so much use. The older girls (7yo and 3yo) love to use it for yoga and gym and our 8mo loves sitting and playing in it. It makes a nice respite from the concrete floors for her little knees! My husband and I love it too for it's stylish design which fits well with our decor. All in all it's a great multi purpose mat!
03/03/2022
Brittany S.

Australia
Perfect Play space for the little ones
I bought a playmate for our church parents room. It is perfect! Easy to clean, soft and durable for kids!
21/02/2022
Sue S.

Australia
My Name is Earl Grey Large Playmat
We love the playmat. Being grandparents, we found we have been down on the floor playing with our grandsons and our knees are not what they used to be. Our new playmat has changed all that! Also very impressed with the quick delivery, ordered Saturday and arrived in Adelaide Wednesday afternoon.
05/02/2022
Sue G.

Australia
18/01/2022
Nicole G.

Australia
Play mat
Love the play mat, very soft and comfy
03/10/2021
Megan C.

Australia
Beautiful safe space for rolling!
My six month old daughter was starting to get confident with her rolling so I quickly purchased this mat. It arrived in about a week and my daughter has spent so much time on it since, it's good to know she's on a nice soft space while to starting to explore!
03/09/2021
Emily K.

Australia
Beautiful Mat, quickly shipped
The mat is lovely, great quality and good colour and pattern. Shipping was very quick.
18/07/2021
Michelle H.

Australia
Very good play mat
I have got a toddler and he is super energetic. This mat brings the clean to the HOME!!!! Thank you!
28/06/2021
Leah B.

Australia
5 stars from us!!!
We love our new play mat! Our little guy has been rolling around on it like a champ! Thank you grace and Maggie for such a great product and for the super quick delivery
20/06/2021
Sarah P.

Australia
Awesome Playmat
Loving our new playmats, super soft for our little one who's up & walking (most of the time). Easy to keep clean, no overpowering "plasticy" smell that you sometimes get with new items. Love it!
30/11/2020
Julie N.

Australia
Julie
Great size, soft & practical.
19/11/2020
Amy B.

Australia
Large play mat
It is awesome,padded, easy to clean
01/11/2020
Lee K.

Australia
Durable
It's so durable and is still in good condition after a year even with my dog is on it daily. My daughter learnt to roll, crawl and walk on it.
22/10/2020
Jess L.

Australia
Absolutely amazing!
These are the best play mats!!! So easy to clean and super soft for bub to play on and they look amazing in your house! And not to mention the quality of these mats, they are definitely 100% worth the purchase :)
12/10/2020
Katerina S.

Australia
Excellent carpet
Hi Grace and Maggie. We love our new carpet. I found out about you through Instagram. We recently got a puppy and we keep him inside, so this carpet is perfect for us sitting on the floor with the dog and him playing on it. I really like how it is so easy to clean, just wipe of with wet wipe and it's clean. My younger daughter loves doing her gymnastics on it as well. We are loving it.
Trusted By