Forrest /Grey Round Playmat








Customer Reviews
Write a Review
Ask a Question
07/03/2023
Sarah C.

Australia
02/02/2023
Danielle W.

Australia
Worth every $$
I could not be any happier with this playmat! It's the perfect size for bub and I to spend quality time together in comfort, and is big enough to last her years of play!
03/04/2022
Stacy M.

Australia
Amazing Product!
Our playmat arrived so quickly and it is absolutely perfect. It's lightweight so easy to move from room to room and it is so soft and comfy under foot. Our little guy is only 2 months but it's great for tummy time and will become more and more useful as he grows. I really researched before I bought and I just couldn't find a mat I was happy with until I stumbled across this one and I could not recommend enough!
23/02/2022
Alex R.

Australia
Run Forrest / Grey Round Playmat
The whole process of ordering, from start to finish, was smooth and efficient. Fast delivery, high quality product, and gorgeous design. It compliments our babies room perfectly and the look/design will transition throughout the years as it's timeless.
05/09/2021
Samantha S.

Australia
Cute playmat
Cutest playmat! Great size and sweetest little pattern, Also nice and soft for babies
03/03/2021
Catherine S.

Australia
The best mat
Firm enough to support bub but well-cushioned too. So easy to clean and the design is super cute. Love the round shape and it fits our space perfectly. Have had so many comments! Plus, delivery was super fast.
19/02/2021
Tracey B.

Australia
Lovely but ...
I love the mat but disappointed at where it is made given the price. Foolishly I thought I was supporting Australian or a peaceful country.
04/01/2021
Julie M.

Australia
Run Forest round play mat so beautiful
I have purchased 2 mats in the past 12 months as gifts for my daughters and they have both been so thrilled. The mats are so functional. Easy to clean, comfortable and they look good Highly recommend
30/12/2020
Debbie F.

Australia
Amazed!
The baby play mat I purchased for my grand daughter is amazing and used for many hours throughout the day! The delivery was amazing quick. It arrived within two days over the Christmas period.
12/11/2020
Alicia G.

Australia
My only issue is that I hadn't bought it sooner
I wish I'd had this play since my bub arrived (she's now 9 months). I love it & so does she. It's incredibly comfy & safe for her to sit & play on, knowing if she takes the odd tumble her noggin is protected. If anything she now giggles about it. It's also fantastic for tummy time. Super easy to clean as well as roll up to take out & about. I also love that it's reversible. Our house is quite small but the round design makes it very easy to squeeze in where needed. Super happy!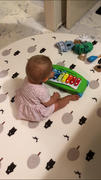 09/11/2020
Thanh L.

Australia
Run Forest round playmat
Nice and soft mat
29/09/2020
Catrina R.

Australia
Excellent Design & Quality Material
I searched high and low for a mat like this and it is exactly what I wanted. It is a simple, two sided design. The mat is a squishy foam that is super comfortable for both bub and me! It is very easy to keep clean, and a great size for bub learning to roll, crawl and grow to play on. Nappy free time is easier and bub is super happy on it during tummy time. Plus it is super cute The mat is a little pricey but I would absolutely recommend this to other mummas and purchase again for other areas of the house. 100% worth your money!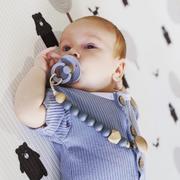 22/09/2020
Monique M.

Australia
Gorgeous Playmat
I purchased the Run Forrest Playmat for a friends baby shower, I couldn't believe how quickly I received it! Such a gorgeous pattern and I love that it's reversible, I can't wait to give it to her.
14/09/2020
Tj R.

Australia
Safe play space
We love our new play mat. My favourite thing about it, is the fact that it is so easy to clean. We love nappy free time on it as if there are any oopsy moments it's simple to clean up. It's nice and firm yet soft for any falls. One less thing to have to worry about. Everyone has commented on how good it is when visiting and bub loves playing on it.
01/09/2020
Jemma S.

Australia
Great Quality Playmat
My family is really happy with this product! Allows my 6 month old to safely practice his rolling and explore new movements. Spongy and easy to clean. The design looks nice in our living room. Plus quick delivery.
25/08/2020
Paige D.

Australia
Amazing!
So squishy! The perfect play mat!
Trusted By