Forrest/Baby Blue Large Playmat




Customer Reviews
Write a Review
Ask a Question
29/11/2021
Seanie R.

Australia
Spew saver
Our little boy is such a spewy baby but absolutely loves being on his tummy and we've spent months trying to avoid tummy time until his belly has settled enough to put him down so he doesn't throw up all over the place .. but this play mat gives him the freedom to enjoy tummy time whenever and the stress off us to be constantly washing spew covered play mats and towels .. plus he'll be able to enjoy the mat for play time for years to come
08/08/2021
Renee f.

Australia
Soft, stylish playmat
Lovely design, color looks great in our home and the mat was surprisingly soft and spongy. So much better than lying on the floor! Love it
14/07/2021
Rob Z.

Australia
Great looking playmat
We love the reversible print design where one side is a contemporary clean look while the other is a fun and playful print.
31/03/2021
Lisa A.

Australia
Run forest play mat
Amazing I wish I had this with the first baby especially when he was learning to crawl. Love the way it looks and feels! Easy to clean and comfortable to sit or lie on if I had the money I would cover the entire play room in them. Thank you
29/03/2021
virginia m.

Australia
Better than expected!
Buying online is always a hit and miss but not this time! I did lots of research on play mats and looked each review before buying one! But Grace Maggies had a little extra , their beautiful classy-cute design just stood out any other brand I was looking at. Love the quality, love the colours, love the design. It feels safe and comfortable and my little baby boy loves it ! Delivery was spot on. I received the mat on the exact day the courier said. I cannot recommend Grace Maggie more! Thank you for your beautiful products!
28/02/2021
Wenche O.

Australia
Run Forrest Baby Blue Large Playmat
Bought this as a gift, absolutely beautiful quality and colours, on both sides as it's reversible.
28/02/2021
Alyce E.

Australia
Amazing
I love these mats so much I just bought a second for my cousins baby shower gift!
08/11/2020
Emma C.

Australia
Love it!
My baby couldn't be happier. He wants to finish feeding so quick so he can get back on his mat!! Soft, easy to clean and nice and big. Just have to remind the dogs it's not for them!
29/07/2020
Sophie C.

Australia
Sanity is back
I love my new playmats (and so do my kids). I'm no longer stressing about every spill my children make. We sit down as a family and plat and snack with freedom! My only wish is that they could come in an even bigger size...
26/07/2020
Brigid D.

Australia
Stylish, safe and easy to clean!
I love our new playmat! It is the perfect solution for cold hard floorboards and easy to clean. I have confidence in leaving our 7 month old to play on this cute mat knowing he is unlikely to hurt himself. It is honestly well worth the money, don't even bother with cheaper options, these mats are the only way to go!!!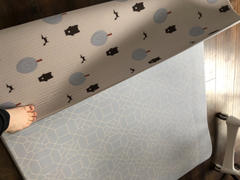 26/07/2020
Emma R.

Australia
So incredibly happy!
We love our new playmat! Easy to clean, soft and looks amazing.
23/07/2020
Sienna L.

Australia
Excellent playmat
Soft, thick, easy to clean, a good size for a living area, this playmat was an excellent buy!
01/07/2020
Rachel C.

Australia
17/06/2020
Alex M.

Australia
New playmat
I have spent months looking for a good quality playmat worth the price. After a long time searching i went with Grace and maggie. I couldn't be happier if I tried. The quality is nothing short of the best and it was worth every dollar. Fast shipping and great communication. Thank you.
11/06/2020
Clare E.

Australia
Love it
Beautiful print and very soft underfoot
02/03/2020
Penny C.

Australia
Lovely soft squishy mat
Arrived quickly. Lovely and soft for my daughter's learning to crawl and comfy for me to sit on too. Great product!
Trusted By