Earl Grey/Baby Driver Large Playmat




Customer Reviews
Write a Review
Ask a Question
04/08/2023
Kylie H.

Australia
Wonderful Addition!
The Earl Grey large play mat has much such a difference to my little bub's play space. We are all more comfortable being down on the floor and able to interact with greater ease. My hesitant to move bub is finding the supportive grip and large size of the mat so helpful in encouraging him to strengthen his muscles and gain confidence moving. Fabulous purchase.
17/05/2023
Charlotte G.

Australia
Fantastic playmat
We absolutely love this playmat. It's spongy for tummy time and a great size for when our son starts crawling and then walking.
05/04/2023
Jessica P.

Australia
5 Stars
Cannot fault this playmat. Love the look and feel - such great quality.
12/03/2023
Nikki S.

Australia
Most comfortable mat EVER!
Bought a Grace and Maggie mat as my little man started rolling all over the place! I was looking for something large, comfortable, easy to clean and aesthetically pleasing for our living space. This mat met all my goals and expectations and exceeded many more! My husband wants to cut it up and put it into his shoes as it's the most comforting thing he has ever walked on!
20/01/2023
Lily C.

Australia
So soft
I love the tracks pattern, we play cars and whatever other games we come up with, I'm currently 8 months pregnant with my second baby and I comfortably sit on my mat for a long time, easy to clean too! We love it
20/01/2023
Grace P.

Australia
Absolutely love
I love the play mat. I feel so at ease with my baby on the floor as we have tiles. Also purchased this around Christmas thinking it would take ages to arrive but was delivered very quickly.
18/11/2022
SALLY B.

Australia
Wonderful playmat
Love the playmat, very functional and so necessary with all hard floors for little ones. Arrived so very quickly I was surprised. Great product, great service.
04/10/2022
Hayley D.

Australia
Beyond Expectations
I first saw one of these mats at a friends house and thought it would be a good idea for my little ones. Well it has exceeded my expectations and I just love it. It is spongy and soft but easy to clean. I enjoy laying on the floor playing with the children so much more now.
27/09/2022
Shilpa D.

Australia
Perfect design for bub n us.
From tummy time, rolling, crawling, playtime, and now walking and much more, this mat has been consistent desiigned for everyday living with a bub.. i also do a bit of exercises when bub is playing around me on the same mat. Love the reversible design fature.Feel the difference of luxury when you compare with the other cheaper versiond. this is worth the dollar! easy to maintain and very functional design to suit the living space.
31/08/2022
Natalie T.

Australia
Baby Mat
We adore our baby mat! I searched for ages for the perfect one and I'm so glad I did as this one is so amazing. It's so soft, has 2 great patterns and is the perfect size!
28/07/2022
Maria B.

Australia
Playmat
I brought the play mat for my house for my grandson and it's just what l wanted and more. Love the color and how on the other side it's a car track, he just loves it and the colors blend in beautiful with my carpet.. thank you
01/07/2022
Nicole D.

Australia
Play heaven
As a first time mum navigating the list of necessity for my baby has been a hard, and sometimes needlessly expensive journey, of things I don't need or will never use. I'm so pleased to say this mat isn't one of them! Being on the ground with my little man was exhausting and it was a struggle to get up. But now I can lie down next to him and just play around for ages. It is also loved by my son who happily rolls around on it all by himself (so I can sneak in a load of dishes or a quick snack)!! It looks amazing, quality is soft and cushy so there are no cries when my son falls over. So fantastic nothing but positives from me. I haven't used the road side yet but I know it'll get it's turns when my little one is a bit older and I can't wait.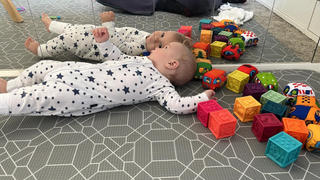 28/06/2022
Stacey W.

Australia
Great customer service
Had some issues with delivery but staff were fantastic and got it sorted. Kids love the play mat
25/06/2022
Cheryl G.

Australia
Awesome Playmat
Bought the playmate for our new grandson. It is amazing and great quality. He loves his time on his mat with his play gym and for tummy time…and I know he will love it for years to come with the roadway on the flip side to play with his cars. Thank you……would highly recommend
18/06/2022
Tricia B.

Australia
Perfect
Was recommended to buy a mat for our grand daughter so happy we purchased from you looks great good quality
15/06/2022
Amanda P.

Australia
Amazing
Tempted to keep falling... it feels amazing! Words can't describe. The whole family and all of our visitors love it! The fact that it has a fun side and sophisticated side along with practicallity makes it life chan
Trusted By