Baby Driver/Boho Small Playmat





Customer Reviews
Write a Review
Ask a Question
10/10/2023
Anna B.

Australia
Perfect play mat!
Beautifully soft and so easy to keep clean! Bub has been enjoying rolling and playing on her new play mat.
23/05/2023
Kirsty M.

Australia
Great purchase
I love that the play mat is both functional and aesthetically pleasing! Really comfortable and easy to clean. Great purchase, highly recommend.
02/05/2023
Donna C.

Australia
05/03/2023
Jayde E.

Australia
Love it!
Quick delivery, great quality!
01/03/2023
Rachael L.

Australia
The perfect mat!
We love our new Grace and Maggie play mat. It's the perfect size for a smaller space, so very soft, and a gorgeous design/colour that would go with any space. My newborn loves tummy time on it, and my toddler loves using the Baby Driver design to build houses on. Thank you, thank you, thank you for the perfect mat!
01/03/2023
Stephy T.

Australia
It is mad not to get this mat :)
One of the best playmat we have purchased by far. Stylist, foamy(super quality) and easy to clean.
19/02/2023
Ashleigh B.

Australia
Beautiful rug, perfect for the space
We love our new play mat, we bought this one for the corner of the lounge room for tummy time with our new born. It fits perfectly, colour is beautiful and the quality is great. We also couldn't believe how quickly the rug arrived. I bought at 7ish one evening and it arrived the next day! Highly recommend!
02/02/2023
Nicola H.

Australia
I still haven't received my order.
I ordered this mat a few weeks ago and I still haven't received it, yet I've been sent this email asking me to review it?
01/09/2022
Lucinda G.

Australia
Love it
Best mat I have ever had. Beautiful quality and so spongy. X
01/08/2022
Erin B.

Australia
Beautiful and practical
Not only in our playmat so practical - wipe clean, comfy to play on - but it also looks great! So thrilled we got it!
29/06/2022
Rebekah D.

Australia
Excellent!
Really comfortable and squishy. And the design is fantastic- looks stylish on the rug side but will be a great to flip it over for play when the baby is old enough. 10/10!
29/06/2022
Krystle J.

Australia
Quality soft & supportive foam 10/10
Love love love our play mat, foam is soft and supportive for little ones play time and mumma knees. Cute little design, love the little car track on the back for bubs to grow into for more play time as a toddler. Good size for bubs to learn to roll, sit and have a little play without taking over the whole lounge area.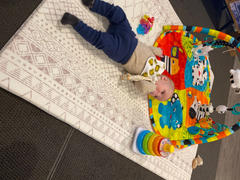 09/06/2022
Andie H.

Australia
30/05/2022
Kirsty M.

Australia
Love it!
Love how great it blends in with the existing home decor and doesn't stick out as a kids play mat
25/04/2022
Owen H.

Australia
Such a beautiful mat
One of the most beautiful looking mat thats stands out in the room.
14/04/2022
Claire L.

Australia
Trusted By