Forrest / Grey Large Playmat
Customer Reviews
Write a Review
Ask a Question
01/02/2022
Jennifer M.

United States
Greatest mat ever
I bought this for my grandsons play area. What a wonderful choice. It fits perfectly and is so comfortable. As a matter of fact my daughter climbs in there and lays down while he is playing. I also received excellent customer service, they went above and beyond to get me my merchandise.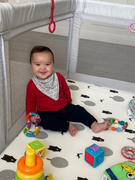 17/01/2022
Wing N.

Australia
05/11/2021
Lane S.

Australia
Play Matt
Absolutely love it! Soft and spills clean up so easy.
20/10/2021
Emily T.

Australia
Best Present Ever
This was the most well received gift that I have ever given. It was recommended to me by a friend who loved the product for her own Bub. I would highly recommend purchasing it as a gift and will look to spoil my new baby cousin with more Maggie and Grace products. Fantastic quality and beautiful around the home.
05/10/2021
Elaine P.

Australia
Love it
We love it. My baby and I always hang out on this play mat. Its very nice and squishy. I love sitting on it too.. will surely buy again plus the design is lovely.
30/09/2021
Nevasha L.

Australia
Run Forrest / grey large playmat
Love this mat so soft and the print is so cute! Both sides will be well used. Can't wait to use it when bubs arrives
28/09/2021
Catalina C.

Australia
Beautiful and comfy playmat
Love the print and softness of this stylish playmat, my 6 month old is enjoying it everyday and never been so happy to be on the floor playing. Highly recommended ☺️
26/08/2021
LEANNE R.

Australia
Run Forrest Playmat
Lovely mat. Perfect for my new grandson . Exceptional service, went out of their way to have it delivered to me in time for the baby. They were lovely to deal with and would definitely recommend.
23/08/2021
Tamara M.

Australia
AMAZING !!!
It is so squishy and bub has learnt how to sit up and crawl on it l. Honestly the best thing I have ever got for him. Wish I knew about it much sooner
09/08/2021
Nadine M.

Australia
Fantastic mat
Loving the playmat! Best purchase yet! Super soft and easy to clean. Our daughter loves it too!
03/08/2021
Karen P.

Australia
03/05/2021
Mona H.

Australia
Love it
Amazing playmat. So soft and squishy, easy to clean. My son didn't like being on his tummy until we got this mat. He loves playing and rolling around on this mat now. Best baby purchase for us :)
22/04/2021
Simone M.

Australia
Perfect BabyShower Gift
The perfect baby shower girl. Delivery was very quick. Highly recommend. A quality product that will last years and serves many purposes. Thank you!
13/04/2021
Rebecca M.

Australia
22/03/2021
Justine J.

Australia
Amazing!
Great quality, super thick and generous size we will definitely get a lot of use of out this. The deliver was so quick too!
15/03/2021
Voula S.

Australia
Playmat forrest grey
This is the best playmat! The perfect thickness to ensure the right amount of comfort for my baby and also for us adults to play on with the baby. I love the neutral colours and just how easy it is to clean. So so happy with our purchase!
Trusted By