Baby Driver/Grey Boho Large




Customer Reviews
Write a Review
Ask a Question
03/08/2023
Petra F.

Australia
Future Grandson
My son and daughter in law love it, and I'm sure when my grandson arrives early October 2023,he'll love it for his tummy time.
03/08/2023
Chanel C.

Australia
Lovely modern design
I love the playmat very soft and the modern design suits my interior design. Was a little disappointed with the customer service as emailed them twice before making my purchase to get some information on a different design. Price could be slightly less also to be more in line with same in other brands.
31/07/2023
Paige G.

Australia
Love our new play mat!
Great size - we love the design and how we can keep it clean and sanitised
26/07/2023
Georgia B.

Australia
Perfect!
Love our play mat for my 6mo, super soft for him and suits our lounge decor. Also super comfy for us to sit on the floor with him to play.
07/07/2023
Kerry M.

Australia
Love it
Beautiful patterns and very cushioned. I no longer have any concerns about our baby hitting his head on the tile floor. Being double sided it was slippery on the tiles so just put a silicone underlay down and it's perfect.
03/07/2023
Daniela N.

Australia
Love at first sight and feel!
My only regret is not buying this earlier! We brought this for my son for his first birthday and we all love it. We eat on it, play on it, sleepy on it! It's easy to clean and super soft. Grace and Maggie communicate and help delivering to our rural address was seamless too. Nothing negative to say.
20/06/2023
Simone Q.

Australia
Great play mat
Quality is excellent and arrived so quickly. Perfect size and easy to clean.
04/05/2023
Irene R.

Australia
Beautiful playmat
Lovely and thick, gorgeous design and easy to keep clean. We love it so much we ordered another!
14/04/2023
Chloe Y.

Australia
Perfect play mat
I'm so happy with my Grey Boho mat. It is great quality, soft for baby and adults (making playtime so much more comfortable) and looks perfect in our living room. Highly recommend!
04/04/2023
Natalie V.

Australia
Perfect!!
We love our new playmat. We love chilling on the floor playing but the back pain I was experiencing was awful and it meant that I couldn't be down there for as long as i would have liked. I looked into these mat and quickly found one I loved. I love that they are double sided so we can switch it if we have guests come round as it sits in our living room. I have already told my new mumma friends all about it and they are looking into getting one too. Great communication and extremely fast postage as well. We will be getting another one shortly for our little one's bedroom.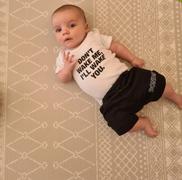 01/03/2023
Devon B.

Australia
05/12/2022
Rhyann M.

Australia
Baby Driver / Grey Boho Large
Loving this mat so far!! It is quite pretty and versatile in my house. My bub has started rolling belly to back and I dont have to worry about his head smacking onto a hard floor. It is super cushioned. I can comfortably kneel on it when I'm playing with him. Easy to clean, can wipe up any dribble or spit up from bub, or sweat from me if I do a workout on it next to him. A suprisingly good feature is that it stays quite cool, which is great in QLD summer. The fabric play mats get quite hot especially during tummy time, my bub tolerates tummy time a lot longer now on this mat.
10/10/2022
Katelyn G.

Australia
This playmat is perfect! My bub is becoming a lot of active learning how to crawl, this mat is perfect as he learns these new skills.
10/10/2022
Cherie L.

Australia
Nothing but perfect!
Best play mat. Love how I can use one side for when my son is playing with cars, and once the day is done, I can fold over to a beautiful contemporary mat. Have received so many compliments already.
12/09/2022
Melissa C.

Australia
Lovely Mat
Beautiful pattern, great quality and arrived quickly. My bubs loves playing on her new mat, moves around alot more freely.
04/09/2022
Lavinia S.

Australia
Trusted By