Forrest / Blush Large Playmat
Customer Reviews
Write a Review
Ask a Question
The best!
It is amazing!! So soft and peace of mind for all those tumbles and falls of our little one! Fits perfectly in both rooms as we now have 2!! Recommend to everyone we know!!
07/05/2022
Ellen

Australia
Love it
Beautiful playmat, the blush colour is just as advertised. I'm really happy with my purchase. This is the second playmat I've bought from you (older sibling) and I recommend your product to everyone.
27/04/2022
Yasmin L.

Australia
Beyond expectations
This play mat has exceeded my expectations! Not only is it gorgeous to look at, but it is so soft and cushioned and so easy to clean! Only issue is the dog prefers it to his mat!
19/04/2022
Bec C.

Australia
Fast Delivery
Arrived within 3 days which was amazing. Mat is exceptional quality
04/04/2022
Kristin H.

Australia
Gorgeous!!
Gorgeous design, great size and so easy to clean! Everyone in the house loves it
14/03/2022
Emily S.

Australia
Best baby purchase
I was looking at different mats for a while and glad I finally purchased this pink forest mat from Grance and Maggie. It's super squishy which has been amazing for all the bumps as our little one is learning to sit and crawl. The design is also beautiful and the quality is such that I see us holding on to this mat for a few years and hours of play time. Would highly recommend to anyone sitting on the fence to buy from G&M :)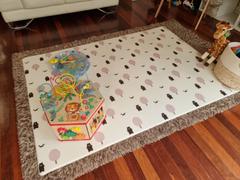 12/12/2021
Tarryn S.

Australia
Run Forrest / Blush Large Playmat
Excellent size play mat that grows with baby. I would definitely recommend the large for when they are crawling if you have wooden floors. The material is a great thickness and comfortable for our baby and is to sit on for long periods of time. So easy to clean. One of our most used and must have items.
24/11/2021
Katie K.

Australia
Worth every penny
Our little girl loves her new play mat! It's so soft and easy to clean. The print is absolutely gorgeous. Very happy customer.
18/10/2021
Michelle M.

Australia
Play mat comfys
Loving the playmat. So soft and comfy, easy to clean and got delivered so fast!
20/09/2021
Nicole P.

Australia
08/09/2021
Jessica C.

Australia
So soft and inviting
We were hunting for just the right mat for our little ones and this is exactly that! It is soft under foot and beautifully patterns. It's sits flat and doesn't move even easily which was what we were worried about with previous mats. Definitely recommend!
22/07/2021
Kym R.

Australia
Love it!
Love our new playmat it is nice and comfy for adults to sit on when playing tea parties with our little ones! My cousin got one and when I went there I decided we had to get one too! Now my friend who was here when it was delivered is going to get one also!! 5 stars from us.
15/06/2021
Monica F.

Australia
So beautiful!
Love our Grace and Maggie mat. The quality is amazing - perfect balance between soft and firm. Love that there are two sides. Highly recommend!
01/06/2021
Keth M.

Australia
Best play mat ever!
Found this amazing play mat in myer. My baby didnot enjoy tummy time until i bought this. Now she spend most of her time on this super soft playmat. I can't thank enough. This mat is bouncy and super soft, no need to worry if baby bump her head while crawling. Super easy to clean and non toxic. My baby has ezcema and this play does not irritate her skin. Generous size. Best play mat. I am so glad I found this. Highly recommend.
09/05/2021
Caitlin L.

Australia
Why did I wait to get one?!
I can't believe I waited until my daughter was 9 months old to get this mat! It's the best thing and worth every cent. It's so comfortable, easy to clean and complements her play area perfectly!
17/04/2021
Alana H.

Australia
Great quality playmat
Great quality mat! Love the colours to, fits in perfectly at home and our baby girl spends most of the day rolling around on it
Trusted By