Baby Driver / Earl Round Playmat
Customer Reviews
Write a Review
Ask a Question
14/12/2021
Jodie S.

Australia
PERFECT!!
We absolutely love our new playmat! The quality absolutely wins over any other mat I have used! My boy loves the car track!
27/11/2021
Mark H.

Australia
Look no further!
Ordered this playmat on a thursday night at 8pm, it arrived on the saturday morning at 8am!! such a gorgeous design but even better the quality, size and durability of this mat. So glad i chose to go with Grace & Maggie for our playmat. Have already spread the word :)
19/11/2021
francesca r.

Australia
28/03/2021
Janine G.

Australia
Could do life with little ones without this playmat!
I have had a Grace & Maggie playmat for 2 years now. My first daughter has used it every day since! I have a second bub now and all I wish is that a bought the bigger version! I love that it's colours fit in with my decor! Love this playmat!!
09/02/2021
Rachel B.

Australia
Baby driver round playmat!
What a fantastic investment! I recently purchased a playmat on recommendation of a friend and could not be happier my whole family love it!! It's perfect for my toddler son having a car and train track, nice and soft for my newborn daughter to get some tummy time in and my hubby and I love that it is easy to clean and has a geometric grey pattern on the other side for when the kids are done playing! Can not recommend enough! Thank you Grace and Maggie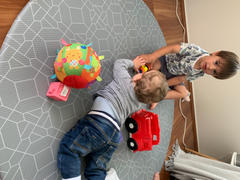 28/12/2020
Victoria B.

Australia
Aunty Vics hit Xmas present
This mat with car track was such a big hit on Christmas Day. My nephew loved it and I'm now officially the fave Aunty Vic. So much joy!
21/12/2020
Claire M.

Australia
So good on mums knees
Bought this after my knees couldn't handle being down on our hard wood floors with my 3 month old any longer. Mat is a nice thickness and the right level of softness to make it easy for me to get up and down. The little one seems to love it for tummy time and it's easy to clean when the cats get hair all over it. Also been using for my little bit of yoga in the morning. Really happy and wish I got it earlier.
15/12/2020
Michaela C.

Australia
Worth every cent
This is the perfect gift. We brought this for our godson and I couldn't recommend it enough for young children. He is 6months and absolutely loves it. His parents and older brother also enjoy playing on it. I can not thank you Grace and Maggie team enough for your fantastic product, customer service and fast delivery.
12/12/2020
Stephanie R.

Australia
Love it!
Looks and feels great, happy with the investment, love the versatility of the design.
Trusted By