Boho / Boho Grey Large Playmat
Customer Reviews
Write a Review
Ask a Question
obsessed with this mat!
I had previously purchased a play mat from a previous company. Unfortunately it wasn't the right colour to match my home. When I found Grace and Maggie and the Brisbane expo I knew I had to purchase a new one. The beautiful pink matches my daughters room perfectly with the lovely grey on the back for the living room. It's so soft and makes tummy time a dream! Thank you so much!
28/06/2022
Hannah M.

Australia
10/10
This playmat is beautiful! I actually bought it after I saw a friends. Don't worry about all the other brands out there. The pattern, the softness, the texture, the size. Perfect.
14/06/2022
Lisa M.

Australia
Beyond beautiful!
We absolutely love our mat! It is so beautiful and the quality is amazing. The colour contrast makes having the play mat part of our everyday decor look so natural and earthy. Would recommend this mat to anyone looking for a high quality foam mat
03/04/2022
Angela P.

Australia
Love it!!!
Love the playmat! It's super squishy, perfect for tummy time and learning to roll and the reversible designs fit perfectly with my decor. Have replaced our rug with this mat in our main living area. Very happy with the purchase. I feel like it might be a bit chilly in winter, it does seem to retain the cold but nothing a blanket won't fix :)
29/03/2022
Michelle G.

Australia
Absolutely gorgeous!
I absolutely love my little ones new boho playmat. It looks beautiful in our home while providing a safe clean space for our 5 month old to play and move about (doesn't scream a child lives here). It's so comfortable to sit and lay on even for us adults and would also make a good yoga mat for us to stretch out on. Definitely worth the price! Something we will use for many years. Thank you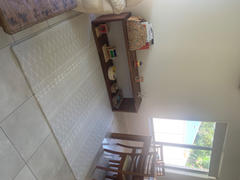 29/03/2022
Priya L.

Australia
baby mat and play room mat
great soft and springy and easy to keep clean.l And looks great!
28/03/2022
Renae E.

Australia
Exactly what we were looking for
We love everything about this play mat - it's exactly what I was hoping for and more! The design is lovely, it's so easy to keep clean (dirt, spills, texta etc just wipe straight off), soft under your feet and I love that its non-slip on our tiles and floor boards - unlike fabric ones. I honestly couldn't be happier with my purchase.
26/03/2022
Staci B.

Australia
Best Baby Shower Gift
Something most mums don't think of is a playmat for their little ones. This is so easy to clean for all those messy moments. It takes up minimal space as it rolls up and can be put away easily and it looks beautiful when it's in use. I will be purchasing these again!
21/11/2021
Rachael D.

Australia
Love love love
We absolutely love our new play mat, it's so nice and squishy for our toddler to play on and also our newborn for tummy time. Easy to wipe clean and robust enough to cop the toddler play! Highly recommend to everyone; we'll definitely be buying another one in the future!
16/11/2021
Britt J.

Australia
Wish I'd got this sooner!
Beautiful and very versatile play mat! Perfect for containing kids spills and messes!
16/11/2021
Juliana F.

Australia
Stylish & functional mat
Melbourne lockdown ended just as my mat arrived - the number of people that have popped in over the last few weeks is (as you can imagine) significant. Everyone has commented on how beautiful our playmat is and how functional it is. I am a big believer in nappy free time to encourage strong gross motor development - the playmat allows me to do this with baby all the time and never worry about accidents. It looks so nice in our modern space.
07/11/2021
Caitlin K.

Australia
Love it!
My 6 month old is so happy with all the room to move around on. So much easier to wipe up drool and other messy things that babies do.
01/11/2021
Tegan P.

Australia
LOVE!
Love the versatile prints on either side. They suit our lounge room perfectly and the mat is so soft and comfortable. Easy to wipe clean too. We have polished concrete floors and the mat doesn't slip around at all which is great!
26/10/2021
Jazmine C.

Australia
The best
We absolutely love our Grace & Maggie playmat! It's squishy smooth comfy and the design fits seamlessly into our space! It's also so easy to just wipe clean! Would purchase again in a heartbeat and highly recommend to anyone considering or swaying to decide! You will not be disappointed!!
26/10/2021
Anna T.

Australia
Fabulous!
The best purchase ever ! My 6 months old loves playing on this mat while I can do things around the house !
17/10/2021
Bernice L.

Australia
Love
Gorgeous! And very soft
Trusted By